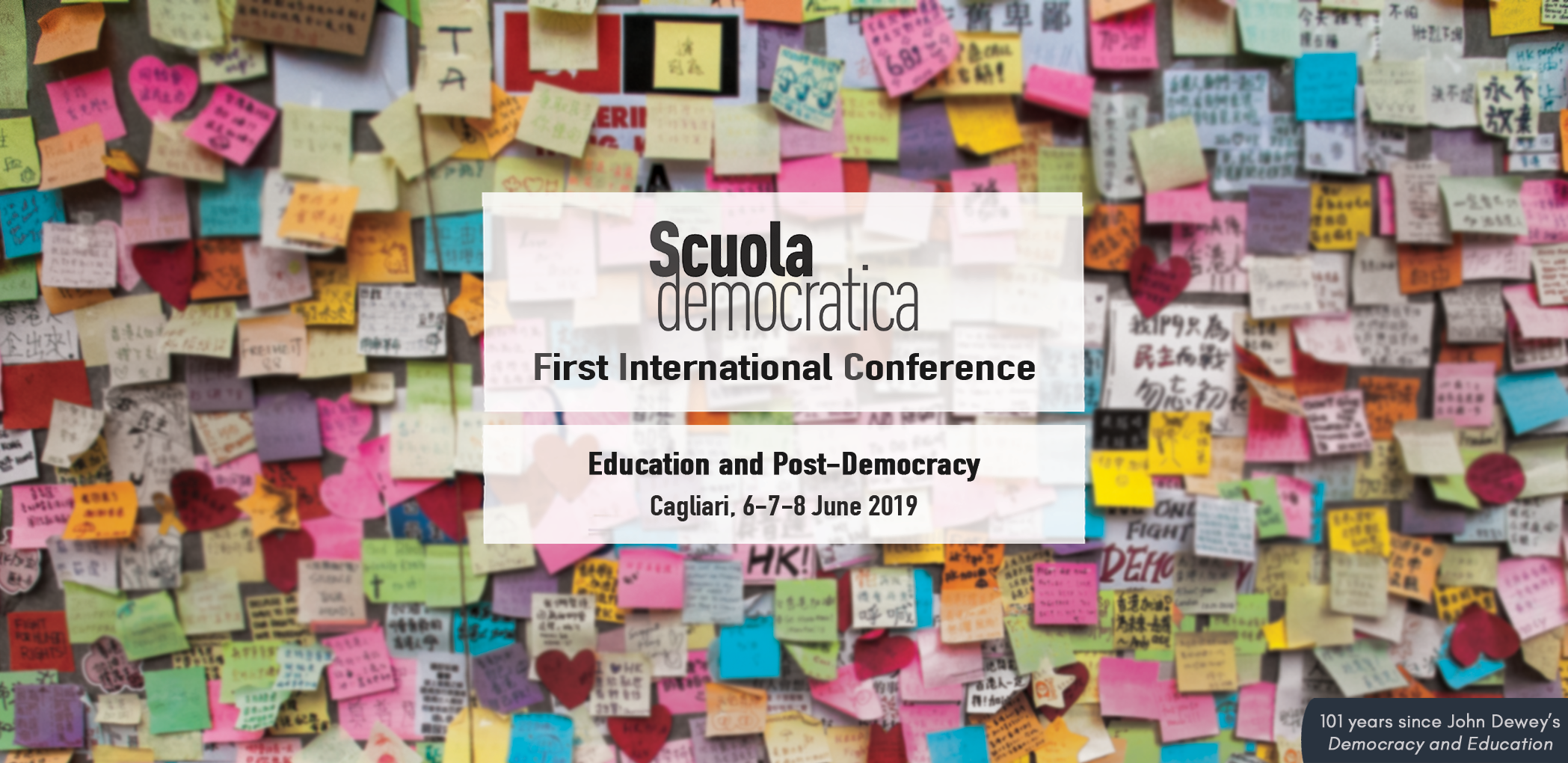 The 1st INTERNATIONAL CONFERENCE of the JOURNAL SCUOLA DEMOCRATICA will be hosted at the University of Cagliari (Italy), June 6 through 8, 2019, by Scuola Democratica, Centro Interuniversitario per la Ricerca Didattica (University of Cagliari and University of Sassari), Il Mulino Editore.
***
Sono aperti i termini per la partecipazione al primo Convegno Internazionale di Scuola Democratica, che si terrà tra il 6 e l'8 giugno presso l'Università di Cagliari. Sarà un'opportunità per presentare e discutere insieme ricerche empiriche e teoriche provenienti da una varietà di discipline e settori relativi all'ambito dell'educazione. Il tema centrale della Conferenza sarà una tendenza che attualmente riguarda molti paesi interessati da processi di globalizzazione: l'avvento di ciò che Colin Crouch ha definito «post-democrazia».
 ***
The Conference stands as an opportunity to present and discuss empirical and theoretical works from a variety of disciplines and fields covering education. The focal theme of the Conference is a trend currently affecting many countries invested by processes of globalization: the advent of what Colin Crouch called «post-democracy».
The panel: «Education, cultural heritages and the Mediterranean space: History and creative processes of intergenerational transmission» - coordinated by Alessandra Broccolini (Sapienza University of Rome), Stèphane Mourlane (University of Aix-Marseille) and Luca Salmieri (Sapienza University of Rome), accepts, but is not limited to, the following topics of interest:
• Education goals of teaching cultural heritages
• Citizenship, school curricula and cultural heritages
• New heritage communities in the safeguard of cultural, tangible and intangible heritage
• The role of museums, community eco-museums and local associations in relation to education
• Teaching and learning Mediterranean cultural heritages in different national and local educational systems
• Opportunity and constraints in national educational policies toward art, history and culture from Mediterranean sites
• Discovering and promoting new intangible heritage located among Mediterranean sites
• Culture heritage and the promotion of cultural diversity and of intercultural dialogue among Mediterranean cities
• The role of cultural and urban history in the implementation of educational curricula
• Visual and digital tools for teaching and learning about cultural and historical heritages
• Socialization and reproduction of intangible heritages
WHERE AND WHEN | DOVE E QUANDO: University of Cagliari, Italy, 6 - 8 June 2019
HOW TO SUBMIT | MODALITÀ DI PARTECIPAZIONE:
For further informations | Per ulteriori informazioni: http://www.scuolademocratica-conference.net/call-for-abstracts/#_Toc530341840
DEADLINE | SCADENZA: 28.02.2019